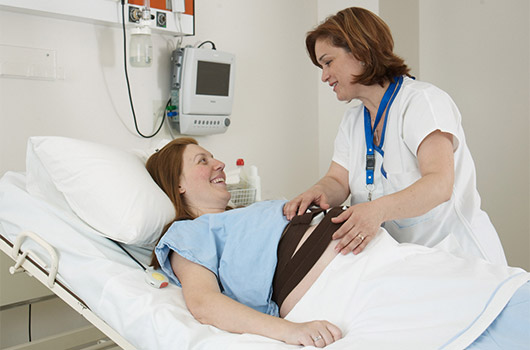 Contact Numbers
+30 210 618 5116
+30 210 618 5117
A fully equipped complex that covers all stages of labor, from the admission of the expectant mother to the delivery of the baby, and is supported by a cardiotocography unit and a modern central station for the monitoring of the pregnant woman. The Delivery Room is located on the same level (level -1) and is in direct communication with the Operating Room and ICU. The Delivery Room complex includes the following departments:
Reception of the expectant mothers and patients which comprises 8 fully equipped rooms for safe receipt and preparation.
The Delivery Room which accommodates 17 fully equipped rooms for the monitoring of the women about to give birth and a room where alternative birth delivery may be performed (Delivery in water).
Five Obstetrics Rooms fully equipped for the performance of natural as well as invasive labor where necessary.
Recovery Room for new mothers where they remain for about two hours for post-delivery monitoring purposes. It is the room where the first breastfeeding takes place.
Stabilization Room for neonates, equipped with 7 incubators which offer accommodation to neonates in need of support for the first 2-4 hours of life in order to help them adapt to extrauterine life.
The Delivery Room operates in accordance with certified procedures and medical protocols for the safe and qualitative support and coverage of labor. The medical and nursing staff working in the Delivery Room has all the necessary knowledge and experience to provide care, advice and support to mothers so that they can calmly and safely welcome their baby following delivery.