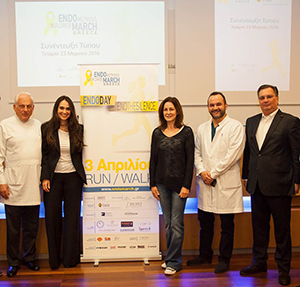 Athens, 23 March 2016 – The Press Conference held today at IASO, witnessed the announcement of the activities of ENDOMARCH Greece on the promotion of education and awareness on Endometriosis.
The ΕNDOMARCH WORLWIDE movement, which started in the USA and is conducted in more than 50 countries around the world, has achieved to publicize this chronic disease millions of women suffer from.
Endometriosis is a pathological condition that occurs when parts of the endometrium are formed outside the uterus, causing severe pain, hemorrhage and infertility problems. The disease threatens 1 out of 10 women of reproductive age and its applicable and timely diagnosis is hard to establish even today.
This year, Greece participates for the first time in this Global movement through a series of actions, organized by the "AWARE" NGO, with the ENDOMARCH-Greece RUN&WALK being the top event.
ENDOMARCH Greece RUN/WALK is a 5 km Road Race which will be held simultaneously with a 2.5 km Walk on the streets of the Municipality of Philothei – Psychiko on 3/4/2016.
The Official Sponsors of EndoDay RUN/WALK are IASO-General, Maternity & Gynecology Clinic and Nikki Beach, Resort & Spa, Porto Heli.
Register your participation today on www.endomarch.gr
Facebook: Endomarch Greece
Instagram: endomarch_greece
Learn more about Endometriosis, the ENDOMARCH movement and the EndoDay RUN/WALK Action on www.endomarch.gr