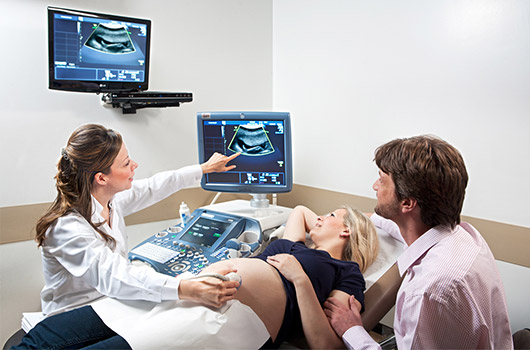 Contact Numbers
+30 210 618 4061
+30 210 618 4042
+30 210618 4044
The Departments of Obstetric & Gynecologic Ultrasounds (Obstetric Gynecologic Ultrasonography) and Fetal Medicine (Fetal-uterine Clinical Laboratory) are among the most important units at IASO, providing over 70,000 women annually with all the necessary ultrasonography diagnostic tests.
More specifically, the following procedures are performed:
Obstetric & Gynecologic Ultrasounds (identifying disorders of the uterus, fallopian tubes and ovaries)
Fetal Medicine Ultrasounds for monitoring pregnancy progress, such as nuchal translucency, biophysical profile, cardiotocography, etc.
Prenatal diagnostic and therapeutic intrauterine procedures, such as amnioparacentesis, obtaining trophoblast cells, plural pregnancy fetal reduction, etc.
It boasts cutting-edge equipment, including color imaging devices and the medical staff working in this department is appropriately trained and highly specialized.
Imaging exams are performed on the same day and are highly reliable. If laboratory tests are required in order to confirm indications or signs suggestive of chromosomal abnormalities, these are conducted by the Central Laboratories or other certified high level external laboratories.
The Clinic's computer system allows the storing of all examinations on a per case basis and provides easy and rapid retrieval, making them readily available to the attending physician and the patient, as needed.
All exams are performed in an architecturally integrated area on the ground floor, allowing prompt service delivery and promoting communication and cooperation among ultrasonography examination rooms. Eight fully equipped examination rooms with state-of-the-art ultrasonography machines operate.
Fetal Medicine examinations are performed by appointment.
Emergency gynecologic ultrasound exams are performed on a 24-hour basis
Opening hours:
Ultrasounds: Monday to Friday 08:00 – 20:00 and Saturday 08:00-14:00, walk-in service.
Fetal Medicine: Monday to Friday 08:00 – 20:00 and Saturday 08:00-14:00, by appointment only.
Extra charges apply in case ultrasounds are performed outside opening hours.
Contact numbers:
Gynecologic - Obstetric Ultrasounds: +30 210 618 4061, 210 618 4062
Fetal Medicine: 210 618 4042, 210618 4044