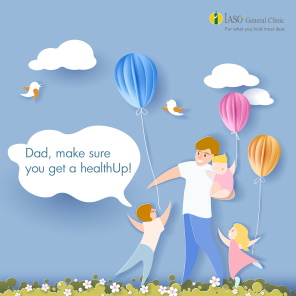 IASO is celebrating Father's Day (Sunday 20 June), offering a further 10% discount off the special healthUp check-up packages.
On this day, young and old celebrate the paternal bond: the fathers, grandfathers and all father figures in their lives. Making a small gesture filled with love and giving your dad a present for Father's Day is worth it.
Click on the link to the IASO website http://bit.ly/IASO_checkups, choose the healthUp package that meets your needs, call the Check-Up Department on +30 210 6383090-1, Monday-Friday, 07:00-15:00, and book your appointment on the spot, using the code fathersday. The offer is valid until 31/08/2021.
The new state-of-the-art IASO General Hospital Check-up Department offers individualized services and whole patient approach during health check-ups. The premises have been fully renovated, boasting modern facilities and the latest equipment. The special healthUp packages meet all check-up needs and are addressed to men and women of all ages.
For further information: Nancy Christopoulou, Commercial Division, IASO Group, Tel.: (+30) 210 6383917, Email: nchristopoulou@iaso.gr