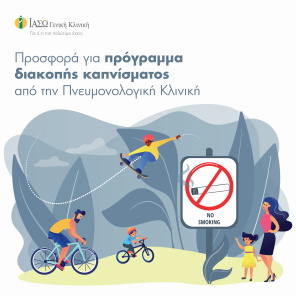 Throughout June, IASO General Hospital is offering a comprehensive smoking cessation program at the special rate of €120, to celebrate World No Tobacco Day (31 May).
The program runs for 3 months and includes:
4 visits to the Smoking Cessation Clinic
Physical examination
Spirometry*
Oximetry
CO reading
Chest X-ray
Behavioral counseling
Smoking causes mental and physical addiction, and is hard to stop without medical help from experts.
The IASO General Hospital Pulmonology Department runs a fully-equipped Smoking Cessation Clinic, staffed with qualified and experienced Doctors/Pulmonologists, who can offer substantial assistance to quit this harmful habit for good, through counseling and pharmaceutical treatment (if necessary).
The benefits of smoking cessation are evident from the very first day. Book your appointment now on +30 210 6383090-1.
*A molecular COVID-19 test must be performed before the spirometry, available at a special rate to those who take up the offer.
For more news-related information: Nancy Christopoulou, Commercial Division, IASO Group, Tel.: (+30) 210 6383917, Email: nchristopoulou@iaso.gr