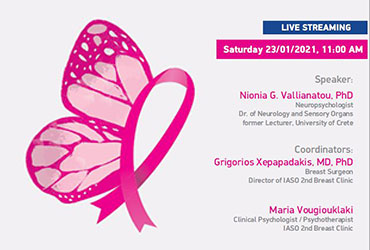 The IASO 2nd Breast Clinic, headed by Mr. Grigorios Xepapadakis, MD, PhD, Breast Surgeon and Clinic Director, is organizing an Online Scientific Lecture on "Use of Event-Related Potentials (ERPs) in the Treatment of Women with Breast Cancer" via YouTube Live on the IASO Group channel (omilosiaso) on Saturday 23 January 2021 at 11:00.
Ms. Nionia G. Vallianatou, PhD, Neuropsychologist, Doctor of Neurology and Sensory Organs, and former Lecturer at the University of Crete, will be the invited speaker. Mr. Grigorios Xepapadakis and Ms. Maria Vougiouklaki, Clinical Psychologist / Psychotherapist and Associate of the IASO 2nd Breast Clinic, will serve as moderators.
This scientific event aims to update the doctors/associates, as well as the general public, on how Event-Related Potentials are used, their effectiveness and the significant role they may have in the treatment of women suffering from breast cancer.
Ms. Vallianatou has a long academic career as a Lecturer at the University of Crete, as well as extensive research and clinical experience in the areas of Neurology and Sensory Organs, Forensic and Clinical Neuropsychology, and Neuropharmacology. She has published studies in numerous Greek and international books and journals, and has presented posters in scientific conferences.
The IASO Breast Center is involved in extensive educational activities, both theoretical and hands-in (invasive and surgical), and organizes regular scientific lectures and conferences, aiming at the ongoing education and training of the Hospital's associate physicians.
The event will be available on the IASO Group YouTube channel and is open to all:
omilosiaso https://bit.ly/35zXQQ8.