Scientific Distinction
"IASO Group's high priority is the continuing professional development (CPD) of the entire medical and nursing staff and the continuing improvement of the services provided to all patients of our Clinics"
In 2014, all the Clinics and Departments of IASO Group exhibited outstanding clinical and research activity and participated in several research programs subsequent to the approval of the Scientific Boards of IASO, IASO Children's Hospital and IASO General, as this is foreseen by the International and European competent bodies and regulations. They also contributed in a plethora of publications and scientific announcements in Greek and international conferences and journals.
IASO Group offers its entire medical and scientific staff the opportunity to attend and participate in various scientific activities such as the Group's Annual Program of Scientific Events which includes speeches on current medical issues. The program is supported by the scientific staff of the Group as well as by highly-esteemed guest scientists from Greece and abroad. Especially for IASO, all presentations included in the program are recorded and posted on the Group's website for the extensive update of our country's healthcare practitioners.
IASO Group also supports the organization of seminars, study days and conferences with guest specialist scientists in order to update all physicians and collaborators of the Group on all the sensitive fields of Medicine.
IASO Group's modern medical library provides all the physicians of the Group with access to complete and direct scientific update. The library runs on a daily basis and grants all medical staff direct access to information from the most seminal international scientific journals.
IASO holds membership in various organizations such as:
The European Society of Clinical Microbiology and Infectious Diseases- ESCMID (collaboration with IASO's Central Laboratories aiming to the improvement and resolution of all laboratory diagnostics issues, training of new scientists in other European laboratories-members, promotion of infections diagnosis and participation in multi-centered studies across Europe).

The Hellenic Cooperative Oncology Group-HeCOG (participation of IASO's Department of Surgical Pathology in programs and publications in high-impact journals).
Corporate Social Responsibility Award for 2015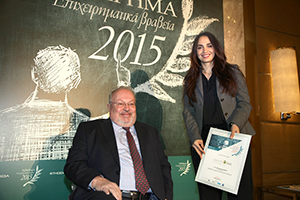 IASO received a Corporate Social Responsibility Award for 2015
Following the distinction of IASO with the 2014 Corporate Social Responsibility Award for its awareness and social contribution, IASO was also conferred with the 2015 Corporate Social Responsibility Award. Ms Christina Tampourea, Commercial Director at IASO Group, received the award and stated: "All the people at IASO Group are dedicated to the values governing its operation and aid all sensitive social groups, especially in cases where specific help is required. Being human-centered, we shall carry on our social contribution policy, even more dynamically".
Financial support, medical, pharmaceutical or other supplies, free of charge hospitalization, treatment and diagnostic examinations as well as financial support of several events realized in institutions, associations, neighboring municipalities, sports clubs and NGOs are only a few of the actions materialized by our Group on an annual basis.